The debut novel by Juliane Stadler
The novel was published as a hardcover and e-book by PIPER-Verlag and will also be available as a paperback from January 2024.
An audio book version, enthusiastically read by Tobias Kluckert, is available from Osterwoldaudio/HörbuchHamburg as an mp3 or download version.
Crown of Heaven was awarded the Silver Homer for Best Historical Novel in 2021.
In 1189, the craftsman's daughter Aveline embarks on the third crusade in the hope of being absolved of a mortal sin at the Holy Sepulchre. Circumstances force her to pretend to be the archer Avery and to join Barbarossa's army unrecognized. After being injured in battle during the siege of Acre, which Saladin's governor Karakush and his men are passionately defending, she confides in Étienne, a crippled young surgeon. He keeps her secret and they eventually fall in love. But this love puts both in great danger, because the past catches up with Aveline. Soon they have to realize that their worst enemy is not lurking among the Saracens, but within their own ranks.
Buy 'Krone des Himmels' at the bookseller of your choice now!
"Meticulously researched and grippingly written - Juliane Stadlers medieval epic 'Krone des Himmels' is a historical novel in a class of its own! "
Daniel Wolf - bestseller author

Gabi Siefke presents books that are great gifts.

Marina looks back on her top ten novels of 2021.
Marion Krefting recommends books for the Christmas season.
Astrid Habib presents one of her favorite historical novels.
"Finally another great historical novel:› Krone des Himmels ‹by Juliane Stadler has everything you could want for a cozy autumn or winter day and inspires men and women alike."
"The author elegantly oscillates between closeness and distance to her protagonists, depicting soulful encounters, tough morals, the medical status of the time, without revealing too much of the novel's content."
"In doing so, she describes the deprivations in a captivating and detailed manner and makes it clear which fears the protagonists had." (...) "The captivating and sculptural style of writing makes you feel like you have been transported to the Middle Ages and you can easily empathize with the hardships of this time."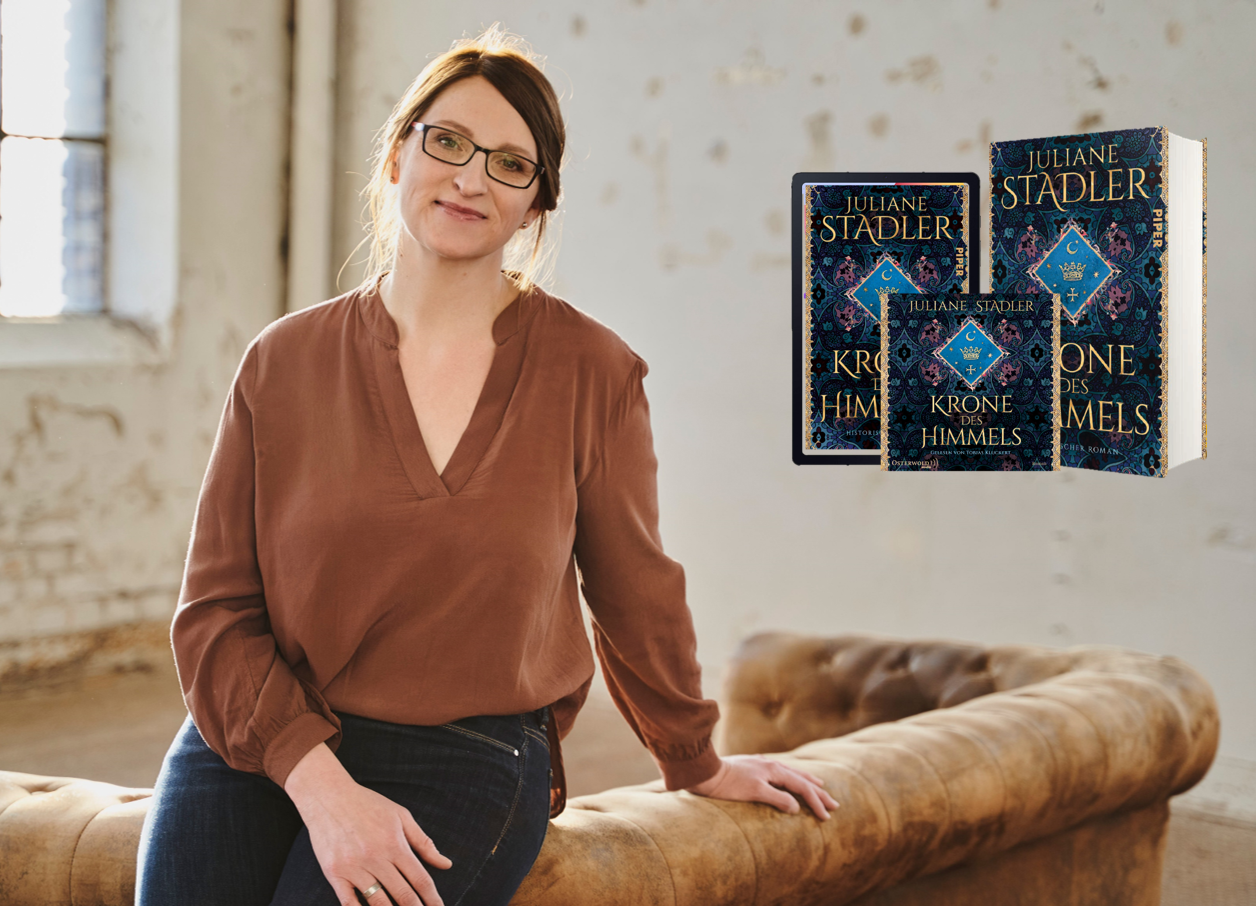 SWR 2 "Am Samstagnachmittag"
"In her debut novel, the author Juliane Stadler inserts the fate of two people who live on the fringes of society and have to reorient themselves into this historically authentic framework story. Topics that are still relevant today are negotiated: tolerance, the role of women or dealing with people of other faiths."

WDR 5 "Diesseits von eden"
"Juliane Stadler drafts a broad tableau of human possibilities in which the common people, the noble military leaders and also the Muslim under their Sultan Saladin receive the same respect."

"The novel tells the story of the third crusade in a vivid and moving manner from different perspectives." 
The Third Crusade to Jerusalem: "Krone des Himmels" - An interview with Juliane Stadler (archaeologist and historian)
"A perfect book!"
In the program "Bücherecke" Tina Bauer and Helmut Degenhart present the novel "Krone des Himmels". 
(ab Minute 6:00)
"Grippingly written, it combines the historical with the romantic."
"The Speyer-based author convincingly manages to weave medieval history with a gripping adventure and love story."